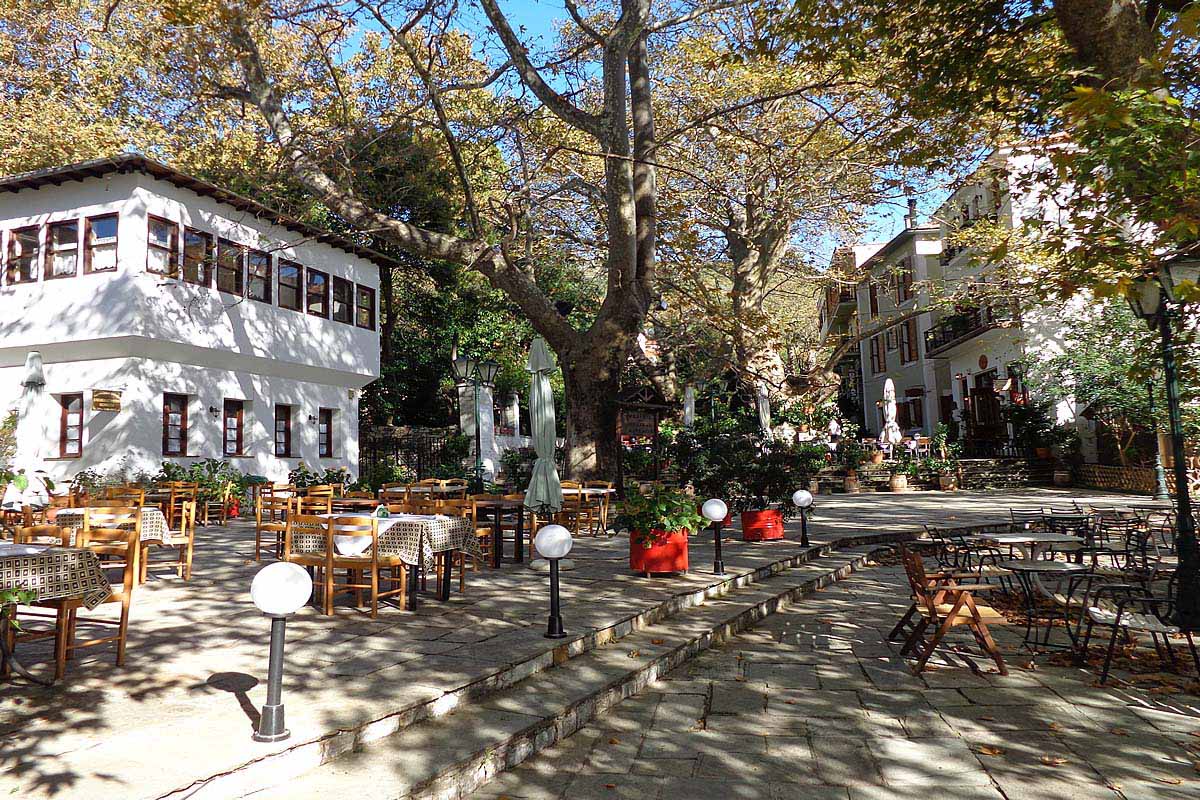 The village of Portaria takes its name from the Panaghia Portarea, a 16th century (1581) chapel built on the site as part of the dependency of the Monastery of Prodromos at Nea Petra. The monastery was founded in the first half of the 13th century by the local rulers of Demetriada.
During the Byzantine period, Portaria and Makrinitsa were part of a large settlement called Ano Dryanouvaina.
During the 18th and 19th century, the villagers were blacksmiths, tanners, sericulturists (rearing silkworms), silk thread, ornamental cord and braid makers. In 1840, there was a French Vice Consul called Barthelemy stationed in Portaria, who acted as a broker for the silk products. At the end of the 18th century, the people of Portaria, like others all over Pelion, began to migrate to Europe, Asia Minor and to Egypt. Migrants to Egypt returned to build homes, mainly during the 19th century, particularly large mansions.
The Grand Theoxenia was built in 1905, and was considered to be the most luxurious hotel in the Balkans at the time. At that time, tourism development began to take on increasing importance in the region, until 1970, only in the summertime, and then all year round after the ski runs were established in Agriolefkes. Portaria even had electricity before Volos, following establishment of the local electricity supply company.
Portaria today
One of the most popular villages of Pelion and the entire country, it combines the atmosphere of an authentic Pelion village with unsurpassed views of Volos and the Pagasitikos Gulf, as well as considerable tourist infrastructure development. It is a popular holiday destination for visitors all year round.
Its picturesque natural beauty and close proximity to the Pelion ski centre, the sea and the city of Volos, make it an ideal destination and a great base for excursions all over Pelion. Trees and flowers decorate the cobbled streets, traditional stone houses and the squares, and scattered around the village are great mansions, ornate stone fountains, churches, chapels and other monuments.
The village centre is particularly beautiful and picturesque, surrounded by trees and hydrangeas. There is Adamenas Square with its plane trees, where the Centaurs' footpath to the Manas spring begins, and Taxiarchon Square with its magnificent view of Volos and the charming stone chapel.